The financial world can be complex and confusing. We founded our firm in 2008 out of concern that many people were not receiving the quality attention and personalized services they needed. Furthermore, we found that while many people have a tax preparer or investment broker, the efforts of these resources were rarely coordinated and seldom achieved a better result for their mutual client. Our clients enjoy our comprehensive approach, where all of the facets of your financial life are taken into account. Lastly, many advisors have an asset minimum. We don't. If we feel that we can work together effectively and we can develop a long lasting relationship, we are happy to help you regardless of your financial situation.
Our Team
---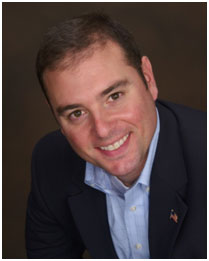 Michael Calabrese, owner and operator of Severn Financial Solutions, LLC, is a CERTIFIED FINANCIAL PLANNER™ and holds a Masters of Business Administration from Loyola University in Maryland. He is also a licensed insurance agent and an Enrolled Agent with the Internal Revenue Service. In his free time, Mike is an amateur local historian and enjoys playing music and reading Pulitzer Prize winning fiction. Above all else, he relishes spending time with his wife, Erin, and their two children, Megan and Matthew.
---

Emily Ward  joined Severn Financial in 2013 after completing an internship with our team and graduating with honors from Salisbury University's Perdue School of Business. Emily holds the Maryland Life and Health Insurance Producer's license and has completed parts 1 and 2 of the Enrolled Agent's designation in order to represent taxpayers before the Internal Revenue Service. In her spare time, Emily enjoys watching the Washington Redskins, craft projects, and spending time with her husband Scott, son Ryder, step-son Shawn and dogs Bandit and Rhett.
---

Erin Calabrese has been with Severn Financial since its founding. She has been a driving factor as we've grown our business to what it is today. She is primarily responsible for the organization and preparation of our client appreciation events and is resident "Jack of all trades" wearing whichever hat is required of her on any given day.   Erin holds a Masters Degree in Social Work from the University of Maryland, Baltimore.